Venturer Award Scheme.
The Venturer Scout Award Scheme is designed to widen Venturers' interests and knowledge, while challenging them at the same time. It assists in planning a balanced program based on the Aims and Methods of Scouting. The Award Scheme is not compulsory for Venturer Scouts, but those who do attempt it find they have a lot of fun while discovering new things.
There are four main components to the Award Scheme. These consist of the Venturing Skills Award, the Venturer Award, the Endeavour Award and the Queen's Scout Award. In addition, Venturers may earn a number of special badges depending on their interests.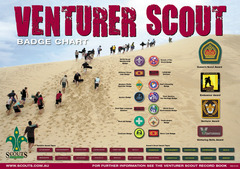 Queen's Scout Award: The Queen's Scout Award is highly regarded in the community at large and the Royal Certificate is presented to the Venturer Scout by a representative of the Queen. The requirements are designed to be inspiring and challenging and to take you to a much higher and demanding level. In some States and Territories, your Queen's Scout Award could be registered on your School Exit Certificate.
To achieve this award you must be able to: Set a goal, Plan your progress towards that goal, Organise yourself and others, and Maintain the determination to complete the task while overcoming setbacks and difficulties.