Scout Award Scheme.
The Scout Award Scheme provides the main focus for Patrol and Troop activities and gives suitable recognition to Scouts for achievement.
There are three levels of Target badges. To achieve the Pioneer, Explorer or Adventurer Badge, the Scout must complete the two compulsory Campcraft and Citizenship Target badges, plus one of the six elective Target badges at each level.
Proficiency Badges: The aim of this system is to allow the Scout to develop in a challenging and interesting pursuit. To achieve a Proficiency Badge the Scout must fulfil requirements set in conjunction with their Adviser and which include the three elements of demonstrate/investigate, skill and an activity. There are 31 Scout Proficiency Badges.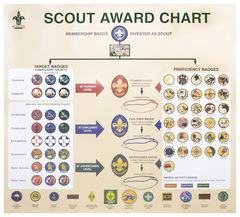 The Australian Scout Medallion is the highest award in the Scout Section. It is considered the pinnacle of Scouting at this stage. To earn the Australian Scout Medallion a Scout must:
Participate in a Scout Leadership Course at any time after completion of the Pioneer Badge;

Demonstrate an active leadership role in Scouting;

Achieve the Adventurer Cord.